"Our official records show that on July 16 of 1935, a thirty year old white woman claimed she was attacked by a Black man in her home. Three days later, Rubin Stacy was arrested. He never received a trial, he never received the benefit of the doubt, he was never given the opportunity to be heard. In fact, he was snatched away by civil authorities, by a reckless vigilante mob, who took the law into their own hands, and decided that justice was something that they were going to pursue. But we know that it wasn't justice. It was an injustice. It was an injustice to Rubin, and it was an injustice to all of us," said Mayor Dean Trantalis at the dedication ceremony.
On Tuesday, February 8th, Ft. Lauderdale honored Rubin Stacy by dedicating a two-mile stretch of Davie Boulevard under his name. In 1935, Stacy, a black man between the age of 27 to 30, was lynched without being given his fair right to a trial. He was accused of threatening a white woman, when in reality, he had asked for a glass of water. However, this detail was never recorded in official records. The sheriffs never inquired about what truly happened, and instead assumed the worst of an innocent Black man.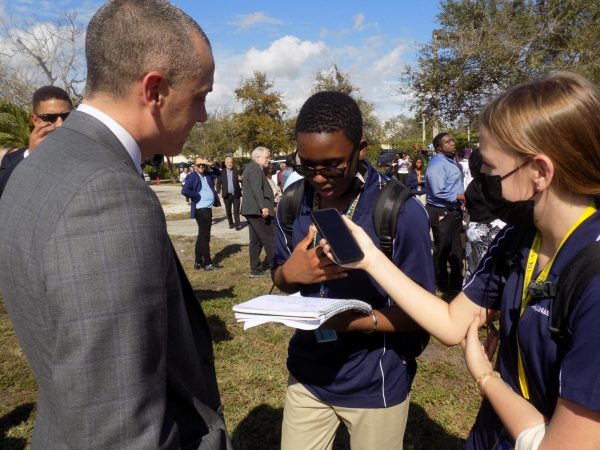 Stacy was handed over to an angry mob, who hanged him in a tree and shot him near what is now Davie Boulevard. This horrific hate crime seemed to delight the mob, as they hanged an already handcuffed and helpless young man and shot him seventeen times through the heart. Photographs were taken in front of his lifeless body as it stayed in the tree for eight hours. Children stood in front of him with smiling faces. At the renaming ceremony, city commissioner Robert McKinzie passionately preached that "what we have to do about this story today is make sure that we tell the story, educate the children, because we haven't had the Black history in any of our books as long as I've known."
The city commissioners unanimously voted that the two-mile section of Davie Boulevard between I-95 and US 441 would have the secondary name of Rubin Stacy Memorial Boulevard. The ceremony for the renaming was hosted at the Bienes Center for the Arts. Officials of Fort Lauderdale, DISC Club members from STA, the Student Council, and even descendants of Rubin Stacy himself were in attendance. Perhaps the closest in relation to him was his niece who lived in the same house as him. She recounted how much her household changed after he didn't return home. Her parents ceased to laugh and joke, and although no one directly spoke of what happened, they knew that something horrible had happened to her uncle.
Story continues below advertisement
The DISC was also observing the ceremony. DISC stands for Diversity Inclusivity Sensitivity Committee, and they are dedicated to including and respecting everyone. DISC co-president Ally Calloway said, "This event creates a more welcoming environment for STA and for Fort Lauderdale because it shows the local community and the school community that they are in a city that does not choose to ignore the events of the past. Acknowledging the atrocious murder of Rubin Stacey and hearing how our local state representatives did the work to know the facts in order to "tell the story" correctly tells our community that we are safe and will not succumb to actions of hate. People often feel more welcome in environments where their safety is assured and their well-being is a priority."